Experience Bon Echo Loop, Central Ontario's Most Popular Day Ride…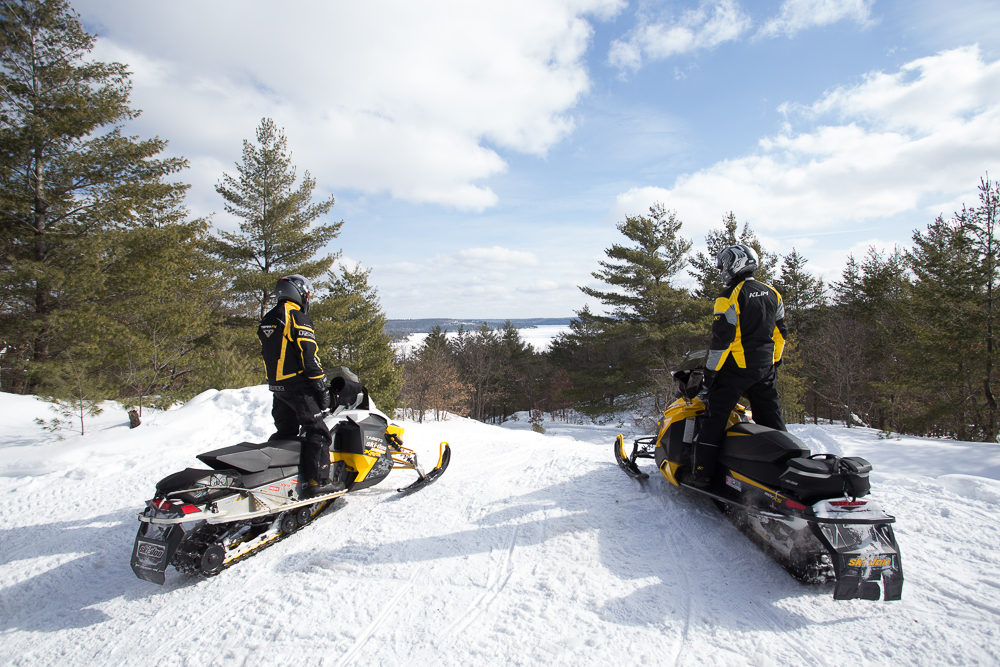 As one of the 33 Snow Tours promoted by the Ontario Federation of Snowmobile Clubs (OFSC) for a snowmobile vacation this winter, the Bon Echo Loop has rapidly become one of the most popular, self-guided Southern Ontario snowmobile tours. With typically good snow conditions, this loop offers an exciting mix of well-established trails that wind through the majestic forests, rugged terrain and picturesque highlands of east Central Ontario's premier snowbelt, including its namesake Bon Echo Provincial Park. Located in OFSC District 2, the Bon Echo loop runs south and east of Bancroft to the Mazinaw area of the Ontario's Highlands Tourism Region. For more about staging your snow machine out of Bancroft for an Ontario snowmobile tour, check out my area tour planner post.
I rode this 232-kilometre snow tour clockwise out of Bancroft in one day, racking up a total of 257 kilometres (including a total of 25 kilometres back an forth between Bancroft and the official loop route) on an outstanding variety of trails from forest access and logging roads to rail lines and utility corridors.
Numerous Bon Echo Loop Staging Locations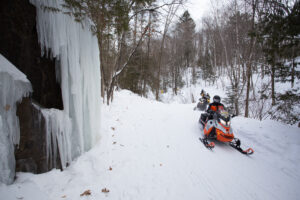 I recommend doing the Bon Echo Loop clockwise out of Bancroft because that puts the last 50 kilometres or so at the end of the day on TOP Trail E106 & TOP B106E (Hastings Heritage Trail), so if you're running late or tired, it's very easy going back to Bancroft. But depending on where you're arriving from, it may be more convenient for you to stage from the handy Park 'n' Ride locations. The easterly most one is at the Shell Station in Cloyne on Highway 41. The one at the loop's west side is at Gilmour on Highway 62. There is an additional staging area farther north on Highway 62 at the Old Hastings Snow Riders Clubhouse at L'Amable. Each is marked on the District 2 Trail Guide with a large green P symbol.
Bon Echo Loop – Where To Stay, Eat & Fuel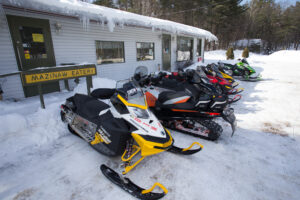 If you're looking for accommodations handy to the Bon Echo Loop, check out the Bancroft Inn & Suites on the west side (TOP Trail B106E) or Mazinaw Lakeside Resort on the east side (TOP Trail E101). Trail accessible food available on the loop includes at The Granite (Bancroft), Cunningham's Country Store (McArthur Mills) and Mazinaw Lakeside Resort, while gas is available at Bancroft, McArthur Mills and Cloyne. Before leaving home, download the Bon Echo Service pdf file as a quick reference guide.
Navigating the Bon Echo Loop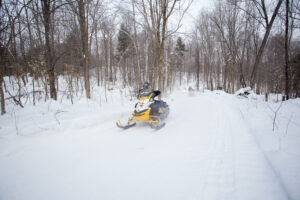 The Bon Echo Loop is easily identifiable as highlighted on the District 2 trail guide. You can also view it on the OFSC Interactive Trail Guide. On the snow, it is well signed and well groomed as a premier Snow Tour should be. You'll spot easy to follow signs with the Bon Echo Loop logo at almost every trail intersection, plus trail numbers are prevalent all along the route. You can also download a Bon Echo Loop map to guide your ride.
The Bon Echo Loop is a gem of a ride just enough off the beaten path to avoid much traffic, but close enough to make it a good day ride choice. It's especially handy for trailering riders who reside along the 401-corridor between the Greater Toronto Area and Kingston. And if you want to make a weekend out of it, head to Bancroft to stay the nights and ride the Bon Echo Loop one day and the adjacent Hastings Highlands Tour the next. By the time you're done, you'll have some mighty fine sledding under your belt and be ready for another Ontario snowmobile tour!
#ontariosnowtrails #gosnowmoblingontario #snowtoursontario #sledbonecho #comewander #OntariosHighlands #bancroft #winterfun #neverstoppushing #itswhatsnext
Like This Post? Follow Me on Facebook
The tips and advice in this blog are the opinions of the author, may not work in every situation and are intended only for the convenience and interest of the reader, who has the personal responsibility to confirm the validity, accuracy and relevancy of this information prior to putting it to their own use.