Valuable Tips To Buy Used Snowmobiles…
---
---
I don't pretend to be a snow machine mechanic. But here are a few tips for how to buy used snowmobiles for sale for your snowmobile tour or snowmobile vacation that I've picked up along the way. Plus a good buy used snowmobiles video by my friend David Clarke…
Visible Damage
Check front and rear suspension, bulkhead, tunnel, rails, etc, for impact marks, cracks or bends.
Check track for broken, missing or damaged lugs, rips or tears in the rubber or missing or bent studs.
Check skis for underside wear, runner condition, and dents or bangs.
Check the belt and clutch for signs of excessive wear. The belt surface and edges should be smooth with no cracks or fraying.
Mileage
There is no right number, but you need to know how much and what kind of use it's had.
Fluids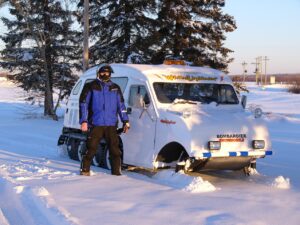 Check oil level, colour, type and brand used.
Check radiator coolant level and inspect chain case oil.
Ask what grade of gasoline the sled uses.
Engine
If at all possible, do a compression test (can be tricky on engines with automatic decompression).
Start and run the engine, preferably from a cold start.
Check for smoke out the muffler, colour and odour. When warm, most engines should produce little smoke, although most older 2-strokes will smoke at idle, especially when cold.
The newer the sled is, the more computerized it will be and the more I'd recommend taking it to a dealer for that brand who will have the necessary computer and programs to run a complete systems check.
Ride It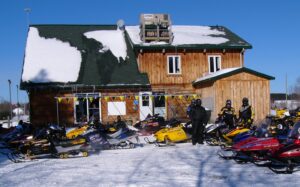 If possible, ask to ride the snowmobile for sale because this is where worn shocks will bottom out, loose steering will be noticeable, worn drivers will make a ratcheting sound and loose parts will rattle.
Talk to the Seller
Get a feel for how they ride, how long they've had this snow machine, how it was maintained and how long the snowmobile's been for sale. Ask for service records and repair history when you buy used snowmobiles. Evidence of a dealer completed 10-hour service should provide some level of confidence that the snowmobile for sale had a proper break-in period. If the snow machine has been raced, many parts, including the frame, may have been exposed to greater stress than normal and other parts may be weakened or even broken. On the other hand, a snowmobile for sale that has sat mostly unused for long periods of time, or improperly stored for the summer may have deteriorated faster than usual or have been gnawed at by rodents.
Accessories
When you buy used snowmobiles, ask if the seller is willing to sweeten the deal by including any accessories with the snow machine for sale, such as cover, saddlebags, extra carbides, sliders, handlebar muffs, etc.
Final Buy Used Snowmobiles Tip
Take your time and look around. Talk to a  dealer. Don't necessarily buy the first used snowmobile for sale you look at. And check out online used snowmobiles sites.
The tips and advice in this blog are the opinions of the author, may not work in every situation and are intended only for the convenience and interest of the reader, who has the personal responsibility to confirm the validity, accuracy and relevancy of this information prior to putting it to their own use.